I'm over here doodling 'eyes' during my Toronto trip, and worrying about the 2nd pair of glasses I've broken down the middle in the last 3 years. A pair that I've only had to replace ONLY the frames in 7 years & they no longer make the frames. Oh well, anyway, I wanted to share that frustration and had this inclination to share about a past visual experience.
Did I ever tell you about that one time that I went blind? Yes, blind! This was a terrifying experience for someone who's always had a vision for detail, composition and most of all, art.
Okay so here's all the deets. .
One October day I woke up with a basic light headache. I'm talking a headache that you don't even think yo take medicine over— it's that basic. Well, beyond basic, as in barely there whatsoever. I didn't think of it as an issue, but it was. Obviously our body's responses and reactions to colds, illness, & etc come in forms of fevers, rashes, headaches and more just to signal that something is wrong. As modern day people we don't often think of this. Shaking mere aches and pains off to go about to power through the day.
Well let me tell you my friends, don't neglect a signal. Take a time to meditate and truly listen to what your body is telling you.
Later that evening during dinner with a friend, my headache increased and my left eye sight begun to appear fuzzy. I did not have a headache anymore but my vision had a gray filter on it. I proceeded to head home and sleep it off —you know, because this might just be a migraine?
The next day I woke up completely blind in my left eye. BLIND— I tell you! It was as if someone painted a thick layer of fresh gray paint on a wall and stuck it right there inside my eye. There wasn't any gradient, light or shadow —just gray.
I panicked!!
I proceeded to get ready in a hurry just to rush out the door to see an eye doctor of sorts. Welp, let me tell you how I quickly learned why that was a bust— because an untrained, single-eye-sighted person heading out to drive is a no go! I had to call my mom but she was in a meeting. My significant other was filming something important and no where close in proximity. My next in line to call was a dear friend whom we call family and that person who I always call for for anything. She arrived in a jiff and we left for the hospital as she insisted. (man, am I a dweeb for typing 'jiff'?)
After 8 hours of multiple tests such as MRI's, other eye scans, and more with 1 optometrist & 3 ophthalmologists to figure why I could not see; the eye doctors came to the conclusion that I had 'Optic Neuritis'.
What's Optic Neuritis?
It's an autoimmune disorder associated with MS. Basically my eye perceived images as electronic frequencies vs visual. I was told that when i'm stressed that it could continue to do this in either eye and it causes my optic nerve to become inflamed. MS, do I have that? No. After vigorous testing, there has/had not been any inflamed lesions anywhere except for my eyes. The doctors were baffled by this, as results for MS were negative.
For months following the blindness scare, I spent time in the oncology center each week for steroid intravenous infusions to help lessen the severity of the stress on my body.
Although it took months to get my sight back, I'm immensely grateful that i was indeed able to see again.
Even if my left eye is 80% less able to see true hues!
What caused this monstrosity?
Well, some of you may already know but this was all due to me being self-conscience and getting breast implants nearly a year and a half prior. I did not know that they were the issue at the time, as well as, along with other major medical conditions that had occurred since I received them. Safe to say that I do not have them any longer and I'm truly blessed to finally put an end to all the trauma my body has been through since. I even couldn't breathe very well for a couple of years— and then after explant, no more wheezing! Thank God for proving. >> Read more.
Keep an eye out [pun-intended] …
Anyway, don't neglect a signal. Take a time to meditate and truly listen to what your body is telling you!!
This is line's for you ladies. If you have breast implants and you are sick often, inflamed, etc— these results may not be your body aging as a doctor might have inclined to allow in thought. It quite possibly is something more severe and that your body can't fight anything further than trying to protect you from the foreign objects inside you. I guess that goes for any sort of implant. Anyway look out for yourself, sister, friend or neighbor.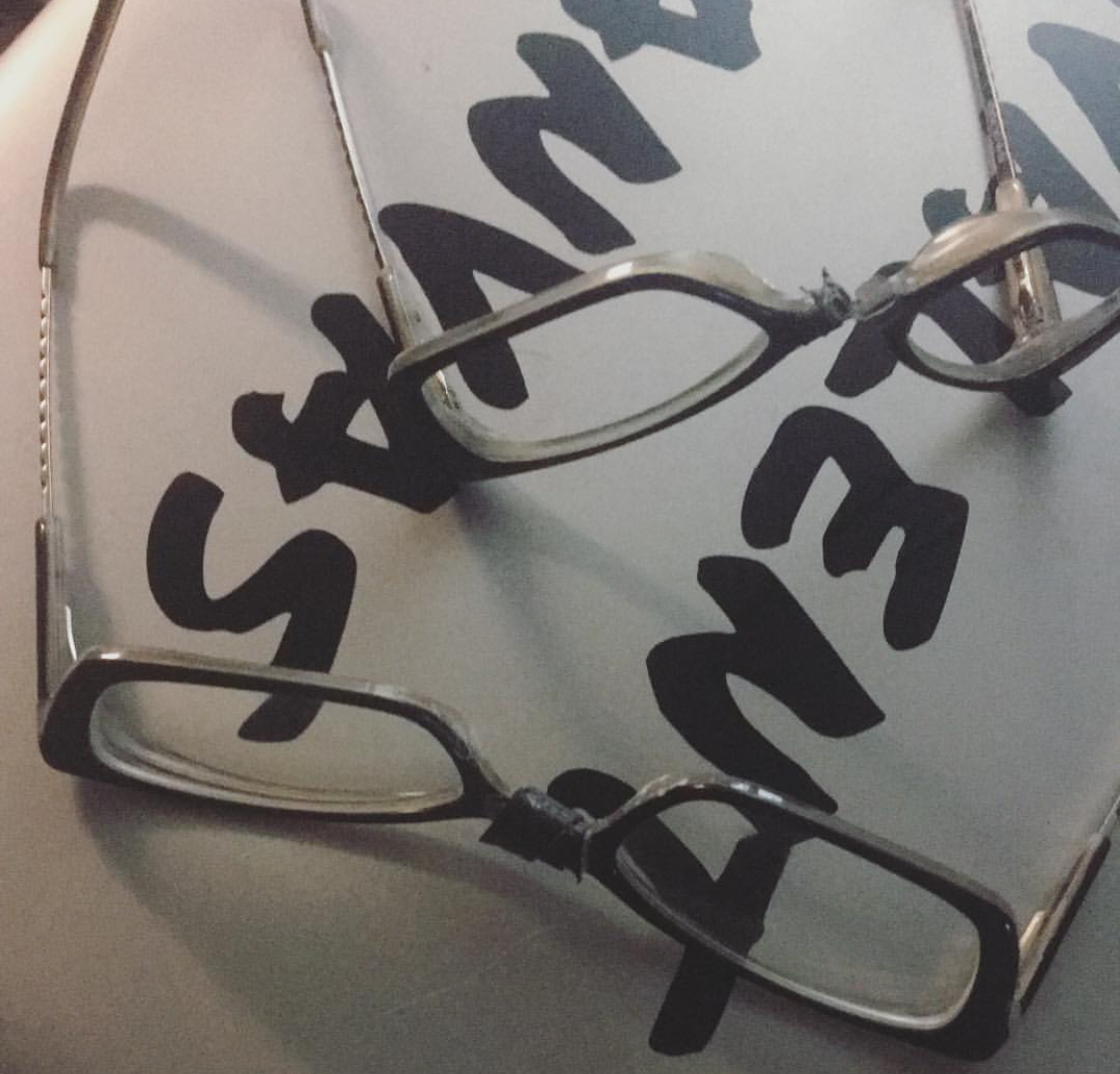 << Those glasses that I
mentioned in the beginning.
Lastly this—
I'm immensely blessed to have my sight back and intact in some form. No matter how much that I feel defeat from breaking another pair of my favorite glasses in half, I am truly thankful for sight. Sight, in so many ways. The perspective to cherish the gift that God has given me. The ability to do art, that was something I once took for granted. More notably, after my walk through Christ, my sight (another pun) had begun more stronger.
xo, mk
read more about bii | read more about provides
SIDE NOTE: I found an awesome deal online for frames with lenses. If you're in the neighborhood seeking out frames but afraid of all the excessive over charges that they charge, check out Zenni Optical.
click here for 5$ off >> http://bit.ly/2NJh5em